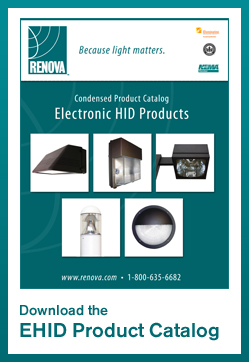 Another great light source.
Electronic HID products offer precision control and are one of the most energy-saving innovations the lighting industry has ever developed.
Description
The ballast maintains lumen output above 90% over the life of the lamp and provides flicker-free consistent color temperature and uniformity between lamps. The result: exceptional light quality. They can be connected to many standard control devices for additional savings and may even qualify for rebates from local utility companies.Perfect for both indoor and outdoor environments, choose from wall packs, garage and sport fixtures, bollards, flood and area lighting, and high bay fixtures.

Download the renova EHID Catalog
---
Product Spec Sheets should be downloaded to your computer to print correctly.