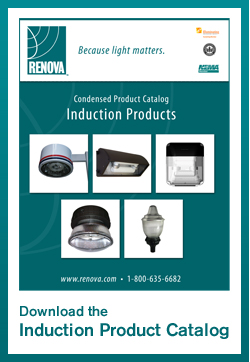 An exciting idea.
Rapidly becoming popular due to its cost-effective benefits, induction lighting is best used in high ceilings or hard to access areas, as well as where efficient lighting is required in low temperatures. Its ability to start and shut off instantly is beneficial for many commercial applications.
Description
RENOVA has created a wide range of fixtures with induction lamps to offer you a broad range of fixture options to meet all your product needs with excellent color rendition and long life.
Best of all, induction lighting can reduce electricity costs by up to 75% compared to HID lamps, and 95% versus incandescent lamps, thanks to electronic ballasts and high system efficiency. Plus:
At a 2,000 hour comparison, a 200 watt induction lamp has a greater lumen output than a 400 watt metal halide or high pressure sodium lamp.
Long performance life of up to 100,000 hours (27 years at 10 hours/day), make this type of lighting virtually maintenance free!
High luminous maintenance rate of 95% after 2,000 hours, 85% after 6,000 hours.

Download the Induction Product Catalog
---
Product Spec Sheets should be downloaded to your computer to print correctly.