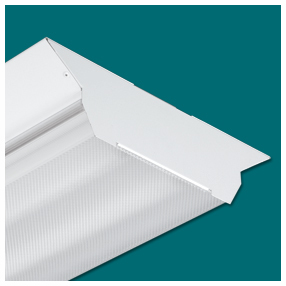 The Semi-Recessed Wrap (SRW) Series has been developed to provide maximum energy-efficient, cost effective general lighting in a clean, low profile design that is both appealing and functional. 
Description
The linear prism design along each side of the lens allows for optimal light distribution while minimizing glare. The housing profile allows the fixture to be used as an easy surface mount replacement and "cover-up" for an existing recessed 1×4 Troffer.
Typical applications for this type of product are interior spaces where finished ceilings exist.  Applications include:
Office Buildings
Industrial Facilities
Commercial and Retail Spaces
Hospitals and Healthcare Facilities
Government Facilities
Military Bases
Schools and Universities
---

Download Photometric Reports
---
Product Spec Sheets should be downloaded to your computer to print correctly.