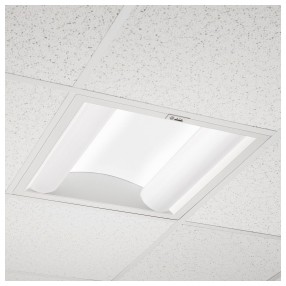 Description
The Cross-Fire Series LED Recessed Luminaire family has been designed to dramatically improve energy efficiency and the quality of light delivered into a space using Solid State Lighting (SSL) technologies. The Cross-Fire Series Luminaire produces both direct and indirect lighting that when combined, provides maximum energy efficient illumination and presents an architectural "roll-formed barrel vault" style element not found in LED products on the market today. This family of luminaires has been designed to replace existing fluorescent lighting or for use in new construction. Comfortable, low glare, uniform lighting is attributed to this style of luminaire. Typical applications for this type of lighting product are interior spaces where finished ceilings and walls exist. Applications include:
Commercial/Corporate Office Spaces
Retail Spaces, Public Spaces and Airports
Schools, Colleges and Universities
Hospitals, Government Facilities and Military Bases
---

Download Spec Sheet
---

Download Photometric Reports
---

Download IES Files
---

Download SPDX Files
---
Product Spec Sheets should be downloaded to your computer to print correctly.