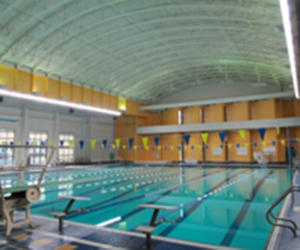 Fixture(s) Used:
(VCT) Vector
Date: 2/7/2012
Customer: Roger Williams University
Location: Pool
Problem:
NCAA regulations require 100fc for collegiate competitions. The existing fixtures in the pool area were providing an average of 4fc. The University was forced to rent temporary lighting for swim meets.
Solution:
RENOVA suggested mounting rows of 8', 12L T5HO VCT fixtures along the sides of the pool area. The 45 degree angle distributed the illumination across the water, providing the required light level while minimizing glare. In order to resist corrosion in the chlorinated environment these customized fixtures were fabricated from aluminum. This project was not intended to reduce energy consumption, however, it provided the NCAA specified level of illumination, eliminated the cost of rented lighting and made the facility more enjoyable to use.